Get your digital copy of David Bronson's fan-beloved and critically acclaimed new album QUESTIONS for $8.95
Order the album that's being called "A full on masterpiece", "A wellspring of soulful authenticity" and "The best album of 2015"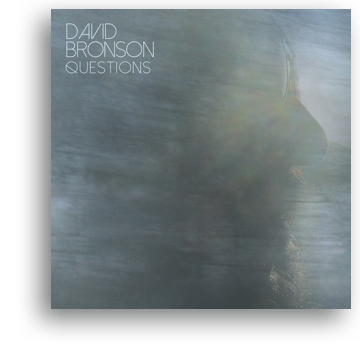 1. Songbird

2. Move Like Water

3. Day By Day

4. Push

5. Task

6. Song of Life

7. All These Things

8. Life is Long

9. My Good Friend

10. Connect the Dots

11. Passing Fiction
Click Here To Download QUESTIONS Now!
According to Guitar World Magazine, "the heart of Bronson's endeavor has always been the songs and the albums."
While Bronson has drawn numerous comparisons to legendary singer-songwriters like Neil Young, Cat Stevens, and James Taylor, as well as more contemporary indie folk artists like Iron & Wine and Elliot Smith, many critics have been keen to point out his unique sound.
The UK's New Current calls David "one of the most original musicians at the moment" and Indie London has called him "one of the most interesting artists to emerge from the New York scene in a while".
Bronson teamed up with longtime David Bowie collaborators Carlos Alomar and Robin Clark and producer Godfrey Diamond (Lou Reed, Aerosmith) to create a soul-drenched paean to the uncertainties of burgeoning adulthood. Subtle echoes of Graceland era Paul Simon and John Lennon's solo work run through the songs' instrumentation, melodies and arrangements.
An album of "superbly crafted tunes" (PopMatters), Questions is a deceptively fluid amalgam of soul, gospel, folk, and dance-funk grafted on to the classic 70's-infused singer-songwriting he's become known for.
So click the order button below and get instant access to David Bronson's new album, Questions, and see why critics both in the US and across Europe are hailing Bronson as "one of the most heartfelt and emotionally raw new artists in music." (Guitar World)
You will receive a digital download of QUESTIONS via email immediately upon placing your order.