"One of the most heartfelt and emotionally raw new artists in music"
Download 2 of David's most critically acclaimed singles FREE, right here
Here's what the press is saying: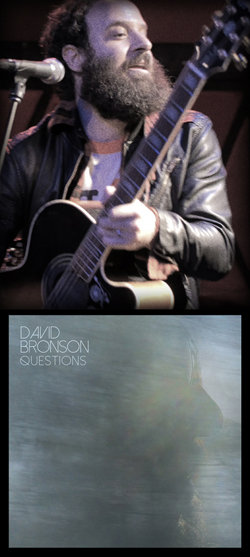 Entertainment Weekly "Rooted in the works of gently folky singer-songwriters like Cat Stevens and James Taylor"
Guitar World "Immediately memorable"
Daytrotter "Fans of Neil Young, George Harrison and the like, give a listen to David Bronson"
MAGNET "Tons of emotion and fantastic vocal work"
BLURT "A wellspring of soulful authenticity"
MOJO (UK) "A very distinctive sound"
Carlos Alomar (David Bowie, Iggy Pop, Alycia Keys, Mark Ronson) "I think that David Bronson voices the inner yearnings of the heart, and I think that's the most powerful thing an artist can do"
THE KIND OF MUSIC THAT TOUCHES SOULS
Bronson draws routine comparisons to some of the most legendary singer-songwriters in history (Neil Young, Cat Stevens, Dylan, Lennon) but astute critics are careful to point out that while there are clear echoes of these timeless artists, Bronson has forged a fully modern sound all his own.
And that sound has been vibrating heartstrings like crazy. The response both online and at the live shows has been staggering; this music has been touching souls across America and around the world.
According to Guitar World Magazine, "In the 2 years since anyone first heard anything of David Bronson, he's established a national touring regimen and growing fan base in the U.S. and abroad, released an abnormally large catalogue of artistically-driven and critically lauded music videos, and been hailed by hundreds of music writers and publications both in the U.S. and across Europe as one of the most heartfelt and emotionally raw new artists in music."
AN ETERNAL SOUND
Bronson teamed up with longtime David Bowie collaborators Carlos Alomar and Robin Clark and producer Godfrey Diamond (Lou Reed, Aerosmith) to create a soul-drenched paean to the uncertainties of burgeoning adulthood.
Subtle echoes of Graceland era Paul Simon and John Lennon's solo work run through the songs' instrumentation, melodies and arrangements. It's a deceptively fluid amalgam of soul, gospel, folk, and dance-funk grafted on to the classic 70's-infused singer-songwriting he's become known for.
During the release period of the critically acclaimed new album Questions, David is giving away 2 of the most highly praised singles from the album as a thank you just for checking him out. Just enter your name and email address on this page and you will immediately be sent a download link for your 2 singles.

So fill in the form on this page, load up your player, and take in what the iconic New York City music site ROCK NYC has declared "A full on masterpiece.. The best album of 2015."